mSchumacher.com has been on the web since 1999 and a lot has happened in F1 since then. On this page, some of the more memorable and notable news items posted on the site over the years have been archived rather than deleted...
Schuey won the 2003 World Championship!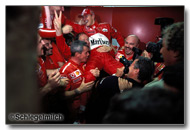 Michael celebrates the title win with an ecstatic Ferrari team

© Copyright Schlegelmilch

In 2003 Michael retained his title as World Champion for the fourth year in a row! Once again car number one belonged to THE number one. At Suzuka on 12 October 2003, Michael clinched his sixth world championship title. It took a long time to achieve the fourth in 2000, but since then he has taken four in a row. Michael has now surpassed Senna's (3), Prost's (4) and Fangio's (5) number of titles. He finished eighth at Suzuka to put himself 2 points clear of Finn, Raikkonen, who finished second. To take the title Raikkonen would have had to finish second with Michael ninth or lower.
Schuey won Ferrari's home GP at Monza in 2000!
Michael celebrating his win at the end of the Italian GP

© Copyright Schlegelmilch

Michael came back with a vengeance in the 2000 season! After taking pole in Italy he led the race from Hakkinen until the finish. This closed him to within two points of Hakkinen in the Championship points table.

Michael was elated after the race win. In an emotional moment he broke into tears during the press conference, when asked about how he felt about matching Senna's career win record.

A serious accident at the start of the race required the safety car to come out and a marshal was sadly killed by a flying wheel. On an amusing sidenote Jenson Button attempted to blame Michael for what was a faux pas on his part. As the field backed up when the safety car went in, he careered off down some grass - the inexperienced driver said Michael shouldn't have slowed the pack down!
Schuey riled Coulthard at the French GP 2000!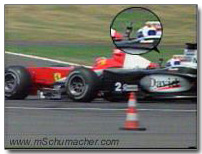 Coulthard stuck his finger up at Schuey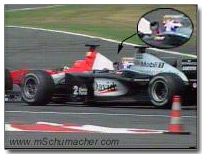 Coulthard made another gesture moving his hand back and forth

During the French GP of 2000, Michael managed to get Scot Coulthard to lose his cool.

Michael had led the race from the start, making the most of his pole position. He had blocked Coulthard from moving past him and simultaneously allowed team mate Barrichello to take second place as a result. Lap after lap ensued with Schuey extending his lead from the chasing pack, with the McLarens following in procession behind Barrichello. Eventually Coulthard managed to pass Barrichello by outbraking him.

He then began closing up on Michael after engine trouble slowed Schuey by over 1.5s a lap. When Coulthard summoned the guts to attempt a passing manoeuvre on Schuey, the double world champion closed the door in the most convincing way.

Not only did he block Coulthard's car, but he did so in such a way that required Coulthard to slow down or else run off the track! Make no mistake, this is legitimate race driving tactics and is not unsportsmanlike in any way. It is the perfect method of maintaining your position when a competitor attempts to pass.

Showing his immaturity as a driver, Coulthard proceeded to stick his index finger up at Michael and then make a side to side motion with a semi closed fist. Is this the behaviour of a man deserving of the championship? Have you ever seen Michael make such signals?

Coulthard's behaviour was not only unsportsmanlike, but the question begs - why did he deem it called for? Even in the heat of the moment, nothing untoward had been done to him. He had attempted a passing manoeuvre and it had been foiled by another driver. It happens every race, many times, but gesticulations don't usually accompany it, certainly not such vulgar ones. Here's what Schuey had to say, after Coulthard as usual continued to whine once the race was over:

"It was a good fight, and I don't know what David is complaining about... I believe that I was racing. If I am in front, I can choose the line I want to run on. He tries to overtake, and I make things difficult - he has done the same thing in the past but, to me, this is racing.''

The best advice for Coulthard might have been to keep both hands on the wheel in future - that way he could have had a better chance of beating Michael fair and square. What he may have overlooked was that he was playing directly in Michael's hands by rising to the bait. Known for playing psychological games, ever cool Schuey would have noted Coulthard's weak point.
Schuey convincingly won the Canadian GP in 2000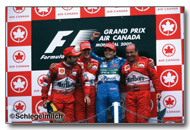 Michael with Barrichello and Fisichella on the podium

© Copyright Schlegelmilch

Michael won the 2000 Canadian GP convincingly. After beating Coulthard to pole position, he made full use of this advantage to lead from the start of the race. He was followed by teammate Barrichello for a Ferrari 1-2, with Fisichella taking 3rd for Benetton. This put Michael solidly ahead of McLaren drivers Coulthard and Hakkinen in the World Championship.
Michael won the first GP of the 2000 season!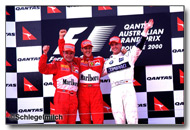 Michael with teammate Barrichello and brother Ralf on the podium

© Copyright Schlegelmilch

At the first GP of 2000 in Melbourne, Australia on 12th March Michael was victorious! After pressurising the McLarens from the start, it became unnecessary to attempt any overtaking manoeuvres when both of their engines blew up. A comfortable win was taken, with a Ferrari 1-2 and brother Ralf taking 3rd for good measure. The strong form continued in 2000, with Michael winning his third world championship since his previous one in 1995.
1999 season end celebrations...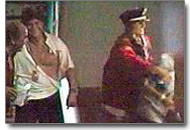 Michael showing his lighter side

At the end of the season teams throw tremendous parties. Naturally, both McLaren and Ferrari had cause to celebrate this year. Hakkinen took the Driver's title for McLaren and the Ferrari boys won the Constructor's Championship. Some people raised questions over the fact that Michael was spotted at the McLaren camp celebrating into the early hours... Was he happy that Eddie hadn't won the Driver's title which he so badly wants for himself? Well Luca de Montezemolo said that Michael had been at the Ferrari party until around midnight, diffusing the storm. Anyway here's the man himself a little worse for wear shall we say... (Who said GP drivers don't drink?).
Schuey's worst crash at the British Grand Prix 1999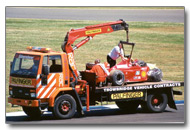 Michael's damaged Ferrari being removed from the accident scene on a recovery truck

In what was the worst crash of his career, Michael experienced a high speed collision with a tyre barrier during the British Grand Prix in July 1999. The cause of the crash was rear brake failure. He sustained multiple right leg fractures and cuts and damage to the heel of his right foot. He was immediately airlifted to Northampton hospital and underwent emergency surgery as an inpatient to have a 12 inch metal plate inserted into his leg. He was out of racing until the Malaysian GP on 19/10/99. His times there were phenomenal and he proved not to have lost any speed or confidence as a result of the accident.